Study On The Information Technology Governance Impact In The Performance of Brazilian Business- An Analysis From The Perspective Of Executives, Users And It Teams Members
Keywords:
Corporate Governance. Strategic Planning. IT Governance.
Abstract
This work is primarily aimed at understanding how the models of Information Technology (IT) governance best practices can positively impact the Brazilian companies' performance. This qualitative and quantitative study of exploratory and descriptive level was carried out through an electronic survey, to which it was invited 38 Brazilian companies that reported they were using models of information technology best practices. The constructs delimitation is given from the perspective of executives, users and IT teams members. The results indicate that there is a tendency among executives to relate directly the adoption of models of IT governance best practices with the estimated benefits and costs. The study also found that, in environments where specialized human assets are essential to the efficient and effective implementation processes, meeting the contractor and the IT services users' requirements turns to be a difficult task. The results suggest that the low involvement of upper management in the improvement identification in the organization internal processes can impact negatively the results delivery agility.
Downloads
Download data is not yet available.
References
Bancos investem em gestão de identidades. Executivos Financeiros. Recuperado em: 12 de novembro, 2015, de http://www.executivosfinanceiros.com.br/ti/seguranca/item/1000-bancos-investem-em-gest%C3%A3o-de-identidades.html
Barney, J. (1991). Firm resources and sustained competitive advantage. Journal of management, 17(1), 99-120.
Batista, E. (2004) Sistemas de informação o uso consciente de tecnologia para o gerenciamento. São Paulo: Saraiva.
Becker, J. L., Lunardi, G. L., & Maçada, A. C. G. (2003). Análise de eficiência dos bancos brasileiros: um enfoque nos investimentos realizados em tecnologia de informação (TI). Revista Produção, 13(2), 70-81.
Bettarello, F. C. (2008). Governança corporativa: fundamentos jurídicos e regulação. São Paulo: Quartier Latin.
Brynjolfsson, E. (1993). The productivity paradox of information technology. Communications of the ACM, 36(12), 66-77.
Caixe, D. F. (2012). Relação dinâmica entre a estrutura de propriedade e controle e o valor de mercado corporativo no Brasil: análise da primeira década do século XXI. Dissertação de Mestrado, Faculdade de Economia, Administração e Contabilidade de Ribeirão Preto, SP, Brasil.
Cassarro, A. C. (1989). Sistemas de informações para tomada de decisões (3a ed.). São Paulo: Pioneira.
Coase, R. H. (1937). The nature of the firm. Economica, 4(16), 386-405.
Dutra, J. S. (1996). Administração de carreiras. São Paulo: Atlas.
Farbey, B., Land, F., & Targett, D. (1992). Evaluating investments in IT. Journal of Information Technology, 7(2), 109-122.
Freitas, H., Oliveira, M., Saccol, A. Z., & Moscarola, J. (2000). O método de pesquisa survey. Revista de Administração da Universidade de São Paulo - Rausp, 35(3), 105-112.
Frontini, B. F. (1999). A decision making model for investing in electronic business Doctoral Dissertation, Massachusetts Institute of Technology, Sloan School of Management, Management of Technology Program, USA.
Gurovitz, H. (1997). Delete-se. Revista Exame, ano 30, n.12, ed. 637, p. 86-95.
Instituto Brasileiro de Governança Corporativa - IBGC. (2009) Código das melhores práticas de governança corporativa (4a ed.). São Paulo: IBGC.
International Data Corporation - IDC (2014) Predictions Brazil 2014 TOP Trends. Recuperado em 15 de novembro, 2014, de http://www.brasscom.org.br/brasscom/Portugues/download.php?cod=567
ISACA (2012). COBIT 5 Modelo corporativo para governança e gestão de TI da organização. Recuperado em 20 de novembro, 2014, de http://www.isaca.org/COBIT/Pages/COBIT-5-Portuguese.aspx
IT Governance Institute - ITGI. (2007). Board briefing on IT Governance (2nd ed.). Rolling Meadows, IL: IT Governance Institute.
Jensen, M. C., & Meckling, W. H. (1976). Theory of the firm: Managerial behavior, agency costs and ownership structure. Journal of Financial Economics, 3(4), 305-360.
Leonard, D. (1995). Wellspring of knowledge: building and sustaining the sources of innovation. Boston: Harvard Business School Press.
Microsoft. Caso de sucesso Universidade de Vila Velha. Recuperado em 12 de novembro, 2015, de http://www.microsoft.com/pt-br/case/details.aspx?Id=1196
Nascimento, A. M., Bianchi, M., & Terra, P. R. S. (2006). A controladoria como um mecanismo interno de governança corporativa: evidência de uma survey comparativa entre empresas de capital brasileiro e norte-americano. Anais do Encontro Nacional da Associação de Pós-Graduação e Pesquisa em Administração - EnAnpad, 29, Salvador, BA, Brasil.
Porter, M. E. (2001). Strategy and the Internet. Harvard Business Review, 79(3), 62-79.
Prahalad, C. K., & Hamel, G. (1990). The core competence of the corporation. In N. Foss (Ed.), Resources, firms, and strategies: a reader in the resource-based perspective (1st ed., pp. 235-256). Oxford, UK: Oxford University Press.
Silva Zonatto, V. C. da, Cordeiro, A., & Scarpin, J. E. (2012, May). Práticas de gestão de custos em uma instituição de ensino superior: uma análise à luz da teoria da agência. Proceedings of the CONTECSI - International Conference on Information Systems and Technology Management, 9, São Paulo, SP, Brasil.
Ross, S. A. (1973). The economic theory of agency: The principal's problem. The American Economic Review, 63(2), 134-139.
Spence, M., & Zeckhauser, R. (1971). Insurance, information, and individual action. The American Economic Review, 61(2), 380-387.
Strassmann, P. A. (1990). The business value of computers: an executive's guide. New Canaan, CT: Information Economics Press.
Weill, P., & Ross, J. W. (2006). Governança de tecnologia da informação: como as empresas com melhor desempenho administram dos direitos decisórios de TI na busca por resultados superiores. São Paulo: Makron.
Willcocks, L. P., & Lester, S. (1997). In search of information technology productivity: assessment issues. Journal of the Operational Research Society, 48(11), 1082-1094.
Williamson, O. E. (1985). The economic institutions of capitalism. Firms, markets, relational contracting. New York: The Free Press.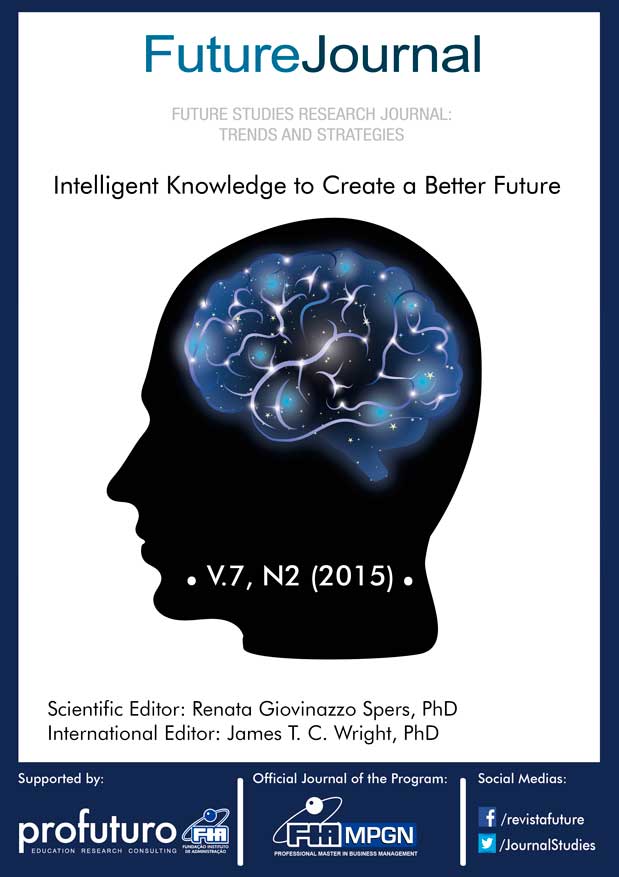 How to Cite
Fernandes da Costa, R., & Rosini, A. M. (2015). Study On The Information Technology Governance Impact In The Performance of Brazilian Business- An Analysis From The Perspective Of Executives, Users And It Teams Members. Future Studies Research Journal: Trends and Strategies, 7(2), 178. https://doi.org/10.24023/FutureJournal/2175-5825/2015.v7i2.218
Section
Artigos / Articles
License
Authors who publish with this journal agree to the following terms:
1. Authors who publish in this journal agree to the following terms: the author(s) authorize(s) the publication of the text in the journal;
2. The author(s) ensure(s) that the contribution is original and unpublished and that it is not in the process of evaluation by another journal;
3. The journal is not responsible for the views, ideas and concepts presented in articles, and these are the sole responsibility of the author(s);
4. The publishers reserve the right to make textual adjustments and adapt texts to meet with publication standards.
5. Authors retain copyright and grant the journal the right to first publication, with the work simultaneously licensed under the Creative Commons Atribuição NãoComercial 4.0 internacional, which allows the work to be shared with recognized authorship and initial publication in this journal.
6. Authors are allowed to assume additional contracts separately, for non-exclusive distribution of the version of the work published in this journal (e.g. publish in institutional repository or as a book chapter), with recognition of authorship and initial publication in this journal.
7. Authors are allowed and are encouraged to publish and distribute their work online (e.g. in institutional repositories or on a personal web page) at any point before or during the editorial process, as this can generate positive effects, as well as increase the impact and citations of the published work (see the effect of Free Access) at http://opcit.eprints.org/oacitation-biblio.html
• 8. Authors  are able to use 
ORCID
 is a system of identification for authors. An ORCID identifier is unique to an individual and acts as a persistent digital identifier to ensure that authors (particularly those with relatively common names) can be distinguished and their work properly attributed.