Contribuições do Marketing na Integração Economia Compartilhada e Estratégia
Keywords:
Marketing, Economia compartilhada, Estratégia, Visão Baseada em Recursos.
Abstract
Sob o contexto emergente de uma nova realidade chamada economia compartilhada que se baseia em fatores tecnológicos, econômicos e sociais, a Administração precisa identificar novos caminhos. Marketing e Estratégia são algumas das áreas que emergem como contributivas neste novo contexto. Contribuições da estratégia apontam para a construção de valor socialmente compartilhado entre agentes da sociedade. Todavia, questiona-se: como promover o marketing como instrumento integrador da estratégia com a economia compartilhada? O presente ensaio teórico, assume tal fato como ponto central de reflexão e busca por meio da construção de elos entre a estratégia e a economia compartilhada, salientar quais caminhos podem ser traçados no contexto do marketing, uma vez que este serve como canal entre as empresas e a sociedade. Alguns insights surgem ao longo da discussão e identifica-se que, por exemplo, o marketing colaborativo assume um papel de destaque nesta integração. Assim, estimula-se reflexões ainda não realizadas na área.
Downloads
Download data is not yet available.
References
ALGAR, R. Collaborative consumption. Leisure Report, 2007.
ALLEN, D.; BERG, G. The-Sharing-Economy. Institute of Public Affairs, 2014.
AMA – American Marketing Association. Definition of Marketing. Disponível em: https://www.ama.org/AboutAMA/ . Acesso em: 10 maio 2016.
BALMER, J. M. T. Corporate Marketing Myopia and the Inexorable Rise of a Corporate Marketing Logic. European Journal of Marketing, Vol. 45, No. 45, p. 1329-1352, 2011.
BANDURA, A. Social Learning Theory. Prentice Hall: Englewood Clififs, 1977.
BARNEY, J. B. HESTERLY, W. S. Administração estratégica e vantagem competitiva. São Paulo: Pearson Prentice Hall, 2007.
BELK, R. You are what you can access: Sharing and collaborative consumption online. Journal of Business Research 67.8: 1595-1600, 2014.
BERTERO, C. O. Réplica 2 – O que é um ensaio teórico. Réplica a Francis Kanashiro Meneghetti. RAC, vol. 15, n. 2, p. 338-342, 2011.
BOAVA, D. L. T.; MACEDO, F. M. F.; SETTE, R. S. Contribuições do Ensaio Teórico para os Estudos Organizacionais. ENEO, Curitiba, 2012.
BOJEI, J.; WEL, C. A. B. C. Determining Relationship Marketing. Academy of marketing conference, Scotland, UK: 2008.
BOTSMAN, R.; ROGERS, R. O que é Meu é Seu: Como o Consumo Colaborativo vai mudar o nosso Mundo. Porto Alegre: Bookman, 2011.
BURNETT, L. The Sharing Economy: Where We Go From Here. Leo Burnett Company, INC., 2014
CHASE, C. Economia Compartilhada. Como as pessoas e plataformas da Peers Inc. estão reinventando o capitalismo. São Paulo: HSM do Brasil, 2015.
COLLIS, D.; MONTGOMERY, C. Competing on Resources Strategy in the 1990s. Harvard Business Review, p. 118-128, Jul./Aug. 1995.
DRUCKER, P. F. Inovação e Gestão. Editorial Presença, 1986.
DUBOIS, E.; SCHOR, J.; CARFAGNA, L. Connected Consumption: A sharing Economy Takes Hold. Rotman Management Spring, p. 50-57, 2014.
DUBOIS, E.; SCHOR, J.; CARFAGNA, L. An emerging eco-habitus: The reconfiguration of high cultural capital practices among ethical consumers. Journal of Consumer Culture. Vol. 14(2) 158–178, 2014.
EL-ANSARY, A. Marketing Strategy: Taxonomy and Frameworks. European business review, Vol. 18, No. 4, p. 266-293, 2006.
FOSS, N. J.; LANGLOIS, R. N. Capabilities and Governance: the Rebirth Production in the Theory of Economic Organization. Druid Working Paper n. 97-2. Copenhagen: Copenhagen Business School, 1997, p. 1-33
GANSKY, L. Mesh: Porque o Futuro dos Negócios é Compartilhar. Rio de Janeiro: Alta Books Editora, 2011.
GRANT, R. M. A teoria baseada em recursos da vantagem competitiva: implicações para a formulação da estratégia. California Management Review, v. 33, n. 3, p. 114-135, 1991. Estratégia Baseada em Recursos. 15 artigos clássicos para sustentar vantagem competitiva. Porto Alegre: Bookman, 2014.
HEINRICHS, H. Sharing Economy: a potential new pathway to sustainability. GAIA 22/4. 228-231.2013.
JANNESSON, E.; NILSSON F.; RAPP, B. Strategy, Control and Competitive Advantage. Case Study Evidence. Springer, 2014.
JONES, P.; HILL, C. C.; COMFORT, D. View Point: Marketing and Sustainability. Marketing Intelligence &Planning, Vol. 26, No. 2, 2008.
KIRZNER, I. M. Discovery and the capital process. Chicago: The University of Chicago press, 1985.
KOTLER, F. Marketing 3.0. São Paulo: Editora Campus, 2011b.
KRETZER, J. MENEZES, E. A. A importância da Visão Baseada em Recursos na Explicação da Vantagem Competitiva. Revista de Economia Mackenzie • Volume 4, n. 4, p. 63-87, 2006.
KRUPINSK, C. Entendendo a economia colaborativa e a economia compartilhada. Disponível em heet://consumocolaborativo.cc. Acesso em: 04 janeiro 2016.
KUMAR, V.; JONES, E.;VENKATESAN, R.; LEONE, R. Is Marketing Oriented a Source of Sustainable Competitive Advantage or Simply the Cost of Competing? Journal of Marketing, Vol. 75, p. 16-30, 2011.
MAUER, A. M.; FIGUEIRÓ, P. S. PACHECO, S. A.; SILVA, V. S.; BARCELLOS, M. D.. Yes, We also can! O desenvolvimento de iniciativas de consumo colaborativo no Brasil. BASE – Revista de Administração e Contabilidade da Unisinos. V. 12, N. 1, 2015.
MENEGHETTI, F. K. O que é um Ensaio Teórico? RAC, Curitiba. V. 15, N. 2, p. 320-332, 2011
MORAIS NETO, S.; PEREIRA, M. F.; MORITZ, G. O. Novo capitalismo: criação de valor compartilhado e responsabilidade social empresarial. Revista Pretexto, Belo Horizonte, v. 13, n. 3, p. 72-91, 2012.
NOVEL, A. S. ; DEMAILLY, D. The sharing economy: make it sustainable. Institut du
développement durable et des relations internationals, 2014.
OLSON, M. J.; SAMUEL J. K.; Sharing Economy: An In-Depth Look At Its Evolution &
Trajectory Across Industries. Piper Jaffray Investment Research, march, 2015.
OWYANG, J. The Collaborative Economy: Products, services, and market relationships have changed as sharing startups impact business models. To avoid disruption, companies must adopt the Collaborative Economy Value Chain. Altimeter Research Theme: Digital Economies, 2014.
PASWAN, A. K.; BLANKSON, C.; GUZMAN, F. Relationship in marketing channels and marketing strategy. European journal of marketing. Vol. 45, No. 3, p. 311-333, 2011.
PETERAF, M. A. The Cornerstones of Competitive Advantage: a Resource-Based View. Strategic Management Journal, v. 14, p. 179-191, 1993.
PENROSE, E. The theory of the Growth of the Firm. Oxford: Basil Blackwell, 1959.
PRAHALAD, C. K.; HAMEL, G. The core competence of the corporation. Harvard Business Review, p. 79-91, May/Jun.1990.
PORTER, M. E.; KRAMER, M. R. Criação de valor compartilhado. Harvard Business Review Brasil, 2011.
PRAHALAD, C. K. A riqueza na base da pirâmide - Erradicando a pobreza com o lucro. São Paulo: Bookman, 2010.
PUGLIESE, V. Economia colaborativa na era do Lowsumerism. Insider. Disponível em http://innovationinsider.com.br. Acesso em: 04 janeiro 2016.
RIFKIN, J. Sociedade com Custo Marginal Zero. São Paulo: M. Books do Brasil, 2016.
SILVA, M. E; AGUIAR, E. C; FALCÃO, M. C; COSTA, A., C., V. A perspectiva responsável do Marketing e o consumo consciente: uma interação necessária entre a empresa e o consumidor. Organizações em Contexto, São Bernardo do Campo, ano 8, n. 16, 2012.
SCHOR, J. Debating the sharing economy. Great Transition Iniciative, 2014. Disponível em: http://greattransition.org/publication/debating-the-sharing-economy. Acesso em: 13 maio 2016.
SCHUMPETER, J. A. The theory of Economic Development. Cambridge: Harvard University Press, 1934.
SRIVASTAVA, R. K.; FAHEY, L.; CHRISTENSEN, H. K. A Visão Baseada em Recurso e o Marketing: o papel de ativos baseado no mercado para ganhar vantagem competitiva. Estratégia Baseada em Recursos. 15 artigos clássicos para sustentar vantagem competitiva. Porto Alegre: Bookman, 2014.
SUDARARAJAN, A. The sharing economy: the end of employment and the rise of crowd-based capitalism. Cambridge: The MIT press, 2016.
TEECE, D. J.; PISANO, G.; SHUEN, A. Firm Capabilities, Resources, and the Concept of Strategy. Working Paper. Berkeley: University of California/Center for Research on Management, p. 90-98, 1997.
TEECE, D. J. Dynamic Capabilities and Strategic Management. Oxford University Press, 2009.
TOALDO, A. M. M.; LUCE, F. B. Estratégia de marketing: contribuições para a teoria em marketing. RAE Vol. 46, No. 4, 2006.
VASCONCELOS, F. C.; CYRINO, A. B. Vantagem competitiva: os modelos teóricos atuais e a convergência entre estratégia e teoria organizacional. RAE, São Paulo, v. 40, n. 4, 2000.
VIANA, D. O Furo do Capitalismo. Revista Página 22, N. 96. São Paulo: FGV EASP, 2015.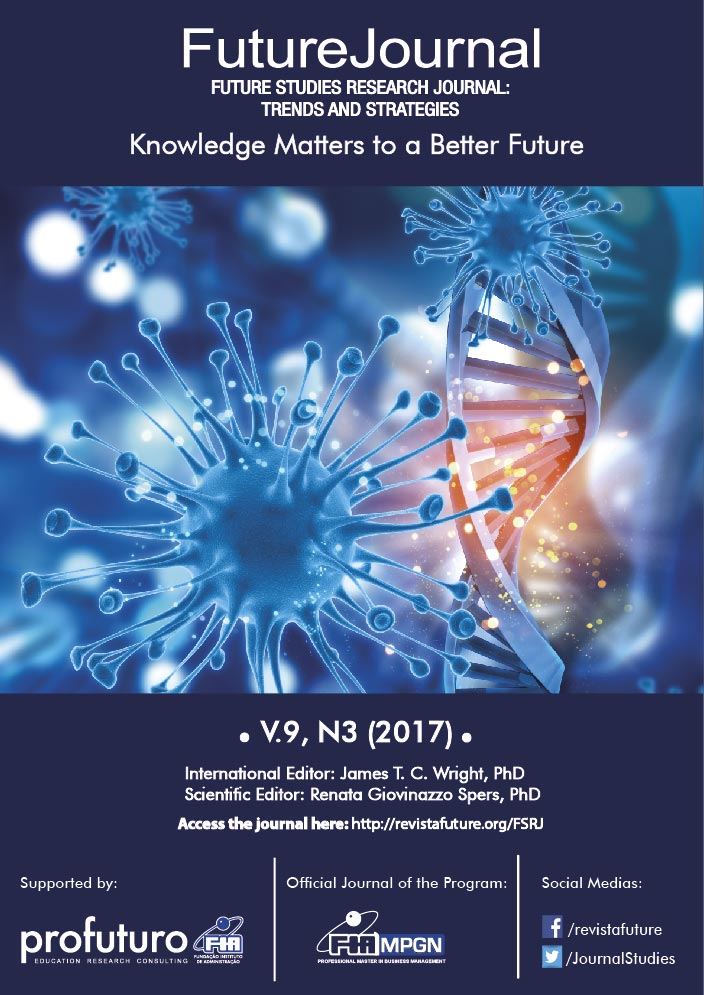 Downloads
How to Cite
Pereira, C. H. T., & Silva, M. E. (2017). Contribuições do Marketing na Integração Economia Compartilhada e Estratégia. Future Studies Research Journal: Trends and Strategies, 9(3), 127–149. https://doi.org/10.24023/FutureJournal/2175-5825/2017.v9i3.304
Section
Artigos / Articles
License
Authors who publish with this journal agree to the following terms:
1. Authors who publish in this journal agree to the following terms: the author(s) authorize(s) the publication of the text in the journal;
2. The author(s) ensure(s) that the contribution is original and unpublished and that it is not in the process of evaluation by another journal;
3. The journal is not responsible for the views, ideas and concepts presented in articles, and these are the sole responsibility of the author(s);
4. The publishers reserve the right to make textual adjustments and adapt texts to meet with publication standards.
5. Authors retain copyright and grant the journal the right to first publication, with the work simultaneously licensed under the Creative Commons Atribuição NãoComercial 4.0 internacional, which allows the work to be shared with recognized authorship and initial publication in this journal.
6. Authors are allowed to assume additional contracts separately, for non-exclusive distribution of the version of the work published in this journal (e.g. publish in institutional repository or as a book chapter), with recognition of authorship and initial publication in this journal.
7. Authors are allowed and are encouraged to publish and distribute their work online (e.g. in institutional repositories or on a personal web page) at any point before or during the editorial process, as this can generate positive effects, as well as increase the impact and citations of the published work (see the effect of Free Access) at http://opcit.eprints.org/oacitation-biblio.html
• 8. Authors  are able to use 
ORCID
 is a system of identification for authors. An ORCID identifier is unique to an individual and acts as a persistent digital identifier to ensure that authors (particularly those with relatively common names) can be distinguished and their work properly attributed.