A Formação de Redes de Empresas: o Caso da Região Central do Rio Grande do Sul – RS
Keywords:
Cooperação, Formação, Redes Horizontais.
Abstract
O presente trabalho  aborda o tema sobre o  processo de formação  de redes  entre Pequenas e Médias Empresas (PMEs). A partir de evidências teóricas, a questão da pesquisa confrontada foi compreender como ocorre a formação de redes interorganizacionais horizontais. A pesquisa estudou e qualificou os fatores subjacentes à formação de redes horizontais de cooperação. No estágio de formação da rede, são analisados os fatores de motivação, escolha do grupo, papel da liderança e a confiança. Para verificar a experiência da formação das redes, o delineamento da pesquisa é de um estudo exploratório, com abordagem quantitativa e qualitativa. A pesquisa empírica foi conduzida por meio de entrevistas com os primeiros e atuais presidentes de nove redes horizontais na Região Central do Estado do Rio Grande do Sul (RS). Também, para melhor entender o fenômeno e aprofundar o estudo aplicou-se um questionário junto aos empresários fundadores das redes. Os resultados da pesquisa evidenciam que as pressões contingenciais, como a concorrência, a dificuldade de obter recursos tangíveis e intangíveis, a falta de crédito, o baixo volume de negócio, exercem influência na motivação para formar redes, que buscam complementaridade de conhecimentos e resultados econômicos.
Downloads
Download data is not yet available.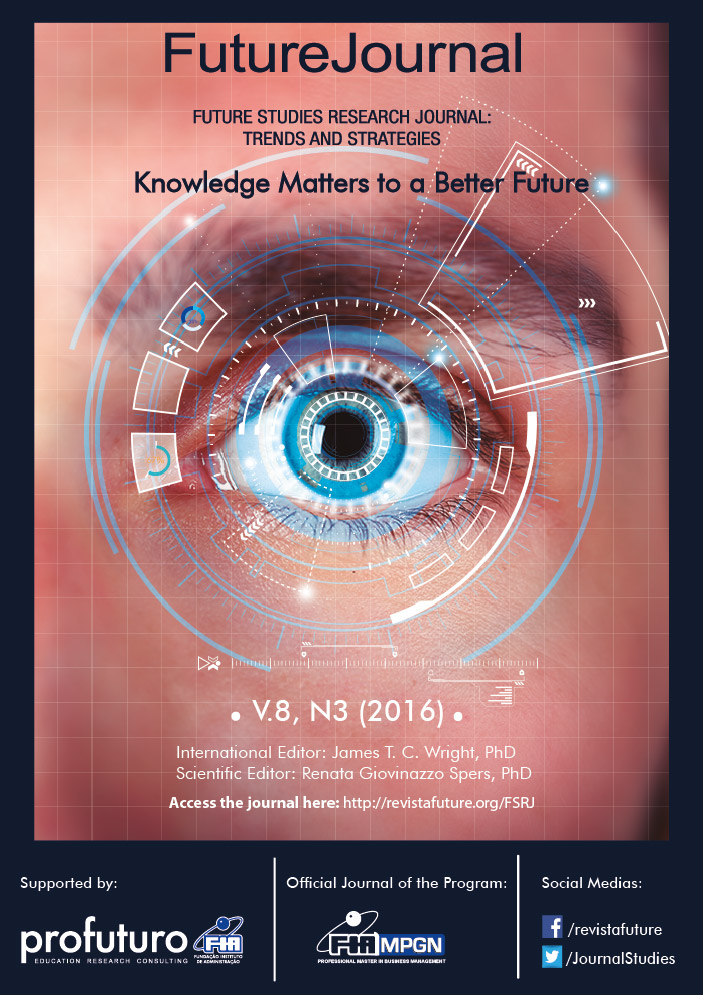 Downloads
How to Cite
Tonin, G. A., Ravanello, F. da S., Bertóli, N. C., & Tonin, S. (2016). A Formação de Redes de Empresas: o Caso da Região Central do Rio Grande do Sul – RS. Future Studies Research Journal: Trends and Strategies, 8(3), 3–30. https://doi.org/10.24023/FutureJournal/2175-5825/2016.v8i3.253
Section
Artigos / Articles
License
Authors who publish with this journal agree to the following terms:
1. Authors who publish in this journal agree to the following terms: the author(s) authorize(s) the publication of the text in the journal;
2. The author(s) ensure(s) that the contribution is original and unpublished and that it is not in the process of evaluation by another journal;
3. The journal is not responsible for the views, ideas and concepts presented in articles, and these are the sole responsibility of the author(s);
4. The publishers reserve the right to make textual adjustments and adapt texts to meet with publication standards.
5. Authors retain copyright and grant the journal the right to first publication, with the work simultaneously licensed under the Creative Commons Atribuição NãoComercial 4.0 internacional, which allows the work to be shared with recognized authorship and initial publication in this journal.
6. Authors are allowed to assume additional contracts separately, for non-exclusive distribution of the version of the work published in this journal (e.g. publish in institutional repository or as a book chapter), with recognition of authorship and initial publication in this journal.
7. Authors are allowed and are encouraged to publish and distribute their work online (e.g. in institutional repositories or on a personal web page) at any point before or during the editorial process, as this can generate positive effects, as well as increase the impact and citations of the published work (see the effect of Free Access) at http://opcit.eprints.org/oacitation-biblio.html
• 8. Authors  are able to use 
ORCID
 is a system of identification for authors. An ORCID identifier is unique to an individual and acts as a persistent digital identifier to ensure that authors (particularly those with relatively common names) can be distinguished and their work properly attributed.