Use of Design Thinking as Ideas Prototyping Experience in Higher Education
Keywords:
Design thinking. Innovation. Startups.
Abstract
This article presents a case of using Design Thinking in a course of an undergraduate degree. The Design Thinking offers an innovation in thinking, consisting of a cycle of steps comprising inspiration, ideation and implementation. Assuming that it has currently shown on the rise the term innovation together with the large number of startups and the high demand of enterprises to adapt new technologies and create competitive advantages in the environment in which they operate. As experiment we used the Design Thinking in a course of Creativity and Innovation in Undergraduate of Information Systems, running the steps of immersion, design, prototyping and validation, in order to generate non-existent or deficit services ideas that might be offered by third parties in the campus of the college. After the description of the steps of the experiment, are presented some qualitative and quantitative results and future work.
Downloads
Download data is not yet available.
References
Bloomberg, Business Week Technology. 2013 (September, 20).Apple Chiefs Discuss Strategy, Market Share—and the New iPhones. Recuperado em 19 de julho, 2015, de http://www.businessweek.com/printer/articles/153204-apple-chiefs-discuss-strategy-market-share-and-the-new-iphones
Bonini, L. A., & Endo, G. de B. 2010. Design Thinking: uma nova abordagem para inovação. Recuperado em 23 de maio, 2015, de 2010. http://biblioteca.terraforum.com.br/BibliotecaArtigo/artigo-designthinking.pdf
Boston Consulting Group. 2006. Innovation 2006. Recuperado em 03 de julho, 2015, de http://www.bcg.com/documents/file14826.pdf
Brown, T. 2009. Change by design: how design thinking transforms organizations and inspires innovation. New York: HarperCollins. Recuperado em 03 de julho, 2015, de http://www.ecologyofdesigninhumansystems.com/wp-content/uploads/2012/09/Change-By-Design-Tim-Brown.pdf
Brown, T. 2010. Design thinking: uma metodologia poderosa para decretar o fim das velhas ideias. Rio de Janeiro: Elsevier.
Brown, T. 2008 – Design Thinking. Harvard Business Review, June 2008 Issue, p.84-87.
Franzato, C. 2011. O processo de inovação dirigida pelo design: um modelo teórico. Redige, 2(1), 50-62. Recuperado em 20 de julho, 2015, de http://www.cetiqt.senai.br/ead/redige/index.php/redige/article/download/72/138&ei=gc8xuu6jioa29gtq8yhgcw&usg=afqjcngdv6s4jou5ld2tranzamyi8rfwow&bvm=bv.52109249,d.ewu
Martin, R. L. 2009. The design of business: why Design Thinking is the next competitive advantage. Boston: Harvard Business Press.
Nakagawa, M. 2014. Ferramenta: Design Thinking para empreendedores. Recuperado em 23 de maio, 2015, de http://cms-empreenda.s3.amazonaws.com/empreenda/files_static/arquivos/2014/04/07/Design_Thinking_.pdf
Pinheiro, T., Alt, L., & Pontes, F. 2012. Design Thinking Brasil: empatia, colaboração, e experimentação para pessoas, negócios e sociedade. São Paulo: Elsevier.
Vianna, M., Vianna, Y., Adler, I. K., Lucena, B., & Russo, B. 2012. Design thinking: inovação em negócios. Rio de Janeiro: MJV Press. Recuperado em 03 de julho, 2015, de http://www.sebraedesign.com/wp-content/uploads/2013/05/Design-Thinking-Inova%C3%A7%C3%A3o-em-Neg%C3%B3cios.pdf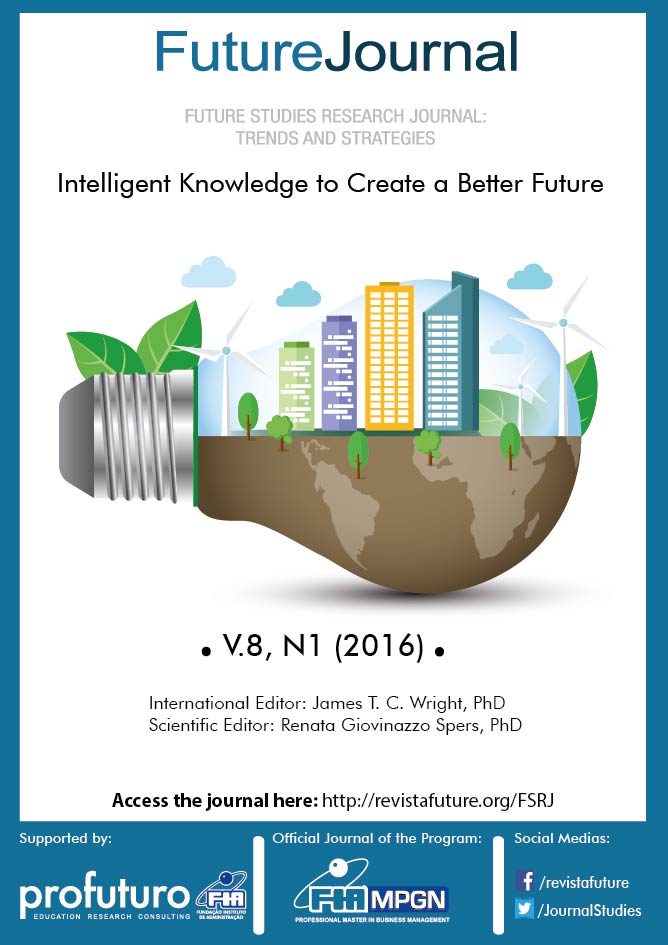 How to Cite
Martins, A. R., Capellari, M., Signori, G., Kalil, F., & Spinello, S. (2016). Use of Design Thinking as Ideas Prototyping Experience in Higher Education. Future Studies Research Journal: Trends and Strategies, 8(1), 208–224. https://doi.org/10.24023/FutureJournal/2175-5825/2016.v8i1.227
Section
Artigos / Articles
License
Authors who publish with this journal agree to the following terms:
1. Authors who publish in this journal agree to the following terms: the author(s) authorize(s) the publication of the text in the journal;
2. The author(s) ensure(s) that the contribution is original and unpublished and that it is not in the process of evaluation by another journal;
3. The journal is not responsible for the views, ideas and concepts presented in articles, and these are the sole responsibility of the author(s);
4. The publishers reserve the right to make textual adjustments and adapt texts to meet with publication standards.
5. Authors retain copyright and grant the journal the right to first publication, with the work simultaneously licensed under the Creative Commons Atribuição NãoComercial 4.0 internacional, which allows the work to be shared with recognized authorship and initial publication in this journal.
6. Authors are allowed to assume additional contracts separately, for non-exclusive distribution of the version of the work published in this journal (e.g. publish in institutional repository or as a book chapter), with recognition of authorship and initial publication in this journal.
7. Authors are allowed and are encouraged to publish and distribute their work online (e.g. in institutional repositories or on a personal web page) at any point before or during the editorial process, as this can generate positive effects, as well as increase the impact and citations of the published work (see the effect of Free Access) at http://opcit.eprints.org/oacitation-biblio.html
• 8. Authors  are able to use 
ORCID
 is a system of identification for authors. An ORCID identifier is unique to an individual and acts as a persistent digital identifier to ensure that authors (particularly those with relatively common names) can be distinguished and their work properly attributed.