NEW BOOK ANNOUNCEMENT: The Future: A Very Short Introduction, by Jennifer M. Gidley
Abstract
A shining utopia or our worst fears realised – what does the future have in store for us?
From the beginning of time, humans have been driven by both a fear of the unknown and a curiosity to know. We have always yearned to know what lies ahead, whether threat or safety, scarcity or abundance. Throughout human history, our forebears tried to create certainty in the unknown, by seeking to influence outcomes with sacrifices to gods, preparing for the unexpected with advice from oracles, and by reading the stars through astrology. As scientific methods improve and computer technology develops we become ever more confident of our capacity to predict and quantify the future by accumulating and interpreting patterns form the past, yet the truth is there is still no certainty to be had.
In this Very Short Introduction Jennifer Gidley considers some of our most burning questions: What is "the future "? Is the future a time yet to come, or is it a utopian place? Does the future have a history? Is there only one future or are there many possible futures? She asks if the future can ever be truly predicted or if we create our own futures - both hoped for and feared - by our thoughts, feelings, and actions, and concludes by analysing how we can learn to study the future.
Jennifer Gidley has extensive experience in the futures studies field, combining scholarly research, academic teaching, and leadership of the World Futures Studies Federation (UNESCO Partner). She was re-elected as President in 2013 for a second four-year term to lead 300 expert futures researchers, teachers and professional practitioners from over 60 countries. Jennifer has held academic positions in Australia at Southern Cross (1995-2001); Swinburne (2003-2006); and RMIT (2008-2012); and holds visiting academic posts in Europe.
Very Short Introductions series from Oxford University Press contains hundreds of titles in almost every subject area. These pocket-sized books are the perfect way to get ahead in a new subject quickly. Our expert authors combine facts, analysis, perspective, new ideas, and enthusiasm to make interesting and challenging topics highly readable.
Publication Date: 23rd March 2017 | 9780198735281 | Paperback | £7.99
For more information about this title please contact Katie Stileman
(E: Katherine.Stileman@oup.com, T: 01865 353344) 
Downloads
Download data is not yet available.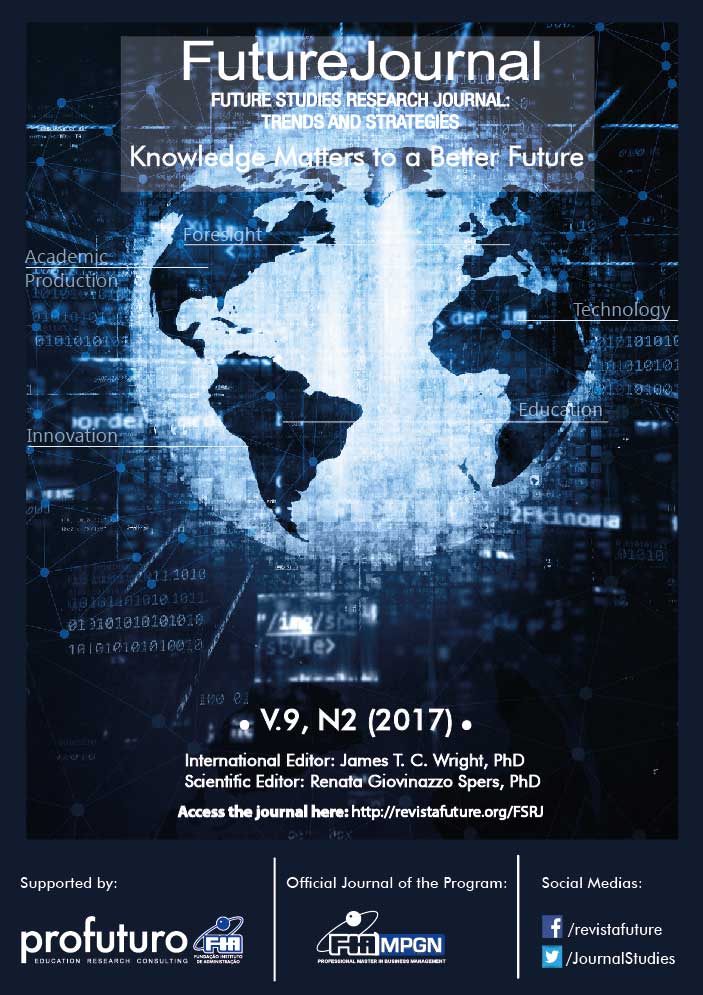 How to Cite
Gidley, J. M. (2017). NEW BOOK ANNOUNCEMENT: The Future: A Very Short Introduction, by Jennifer M. Gidley. Future Studies Research Journal: Trends and Strategies, 9(2). https://doi.org/10.24023/FutureJournal/2175-5825/2017.v9i2.305
License
Authors who publish with this journal agree to the following terms:
1. Authors who publish in this journal agree to the following terms: the author(s) authorize(s) the publication of the text in the journal;
2. The author(s) ensure(s) that the contribution is original and unpublished and that it is not in the process of evaluation by another journal;
3. The journal is not responsible for the views, ideas and concepts presented in articles, and these are the sole responsibility of the author(s);
4. The publishers reserve the right to make textual adjustments and adapt texts to meet with publication standards.
5. Authors retain copyright and grant the journal the right to first publication, with the work simultaneously licensed under the Creative Commons Atribuição NãoComercial 4.0 internacional, which allows the work to be shared with recognized authorship and initial publication in this journal.
6. Authors are allowed to assume additional contracts separately, for non-exclusive distribution of the version of the work published in this journal (e.g. publish in institutional repository or as a book chapter), with recognition of authorship and initial publication in this journal.
7. Authors are allowed and are encouraged to publish and distribute their work online (e.g. in institutional repositories or on a personal web page) at any point before or during the editorial process, as this can generate positive effects, as well as increase the impact and citations of the published work (see the effect of Free Access) at http://opcit.eprints.org/oacitation-biblio.html
• 8. Authors  are able to use 
ORCID
 is a system of identification for authors. An ORCID identifier is unique to an individual and acts as a persistent digital identifier to ensure that authors (particularly those with relatively common names) can be distinguished and their work properly attributed.